If you have a bar, restaurant, gastrobar or tavern ... you know how important is to receive customers with a good snack. In Spain it is usual, and a healthy habit, to have your drink accompanied by a plate of olives or some delicious pickles. In Montegil we specialize in hospitality and sell olives in HORECA format, particularly queen olives, either boneless or stuffed olives, as well as pickles and lemons and oranges preserved in their own juice.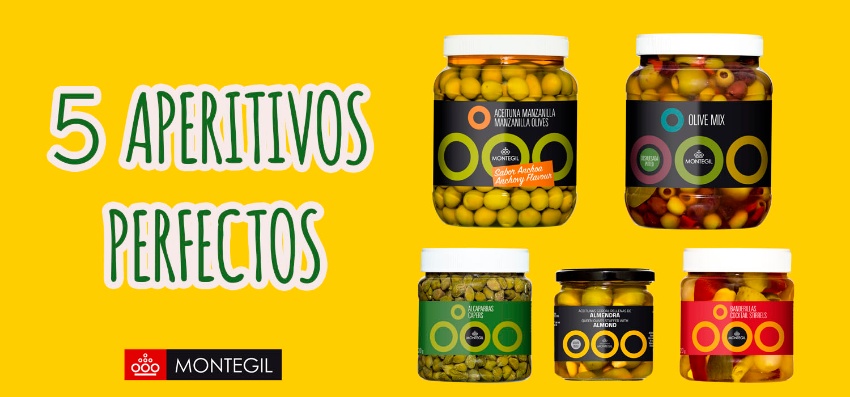 We suggest 5 appetizers to indulge your clients:
Stuffed Queen Olives: Enjoy a perfect combination of flavors such as queen olives and almonds, Manchego cheese, jalapeños or piri-piri, or good anchovy-flavored manzanilla olives are an ideal choice as an appetizer. A contrast of unique flavors and mixture of textures that make Montegil gourmet products a real delight.
Banderillas: One of the clients' favorites are our classic skewers, prepared with olives, onions, pickles, pepper and chilli ... really delicious!
Capers: a pickle low in fat and rich in properties. Although it is often used to dress meat, fish and salad dishes, there are also many lovers who enjoy this appetizer with a cold beer, a good wine or vermouth.
Anchovy Flavor Olives: Delicious olives with intense anchovy flavor. A fusion of sea aromas with the best fruit on earth. They are ideal to take as an appetizer and season salads and other dishes.
Olive Mix: If you want to surprise your customers, offer this combination of whole green and black olives accompanied by red pepper and aromatic spices. Olive Mix de Montegil is perfect for appetizers and entrees. Variety and flavor in a single product to succeed.

If you want to buy olives, snacks and pickles for your bar or restaurant, go to https://shop.montegil.es/es/ In our store you will find a variety of exquisite stuffed olives, banderillas, pickles at the best price. Place your order and we deliver it easily and quickly.