OLIVE AS MAIN CHARACTER OF HIGH CUSINE
Under the hashtag #ElRetoDeLaAceituna more than 200 chefs join the challenge to look for a new concept and reinvent the table olive. Diego Guerrero, Pepe Rodríguez, Pepa Muñoz, Ricard Camarena or Ramón Freixa have been in charge of taking on the first challenge and starting this pyramid chain until reaching 200 chefs.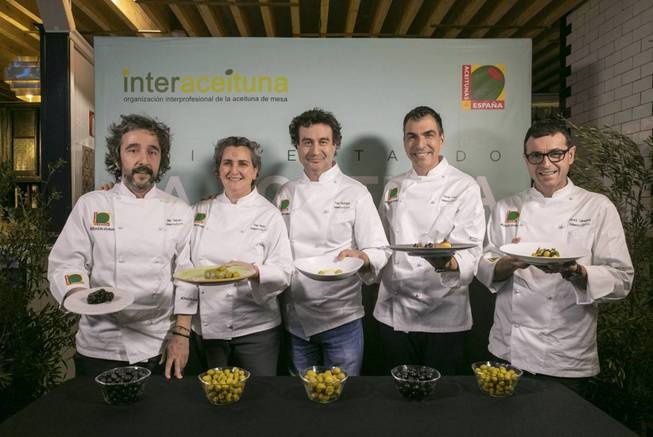 Manzanilla olive pesto with white prawn tartare and quail egg yolk; Queen olive gazpacho, herb and almond soup; manzanilla olive, artichoke and caviar exchange ... these are some of the creations of the chefs with whom #ElRetoDeLaAceituna has started.
This initiative began last November from Interaceituna (the Interprofessional table olive organization) whose main objective is to show the potential of a basic ingredient in the Mediterranean diet such as table olives. Show the world the gastronomic versatility of the olive beyond the appetizer and tapas, reinvent and start from scratch with a product that has many qualities and benefits for our diet and health.
Despite the great variety of olives that exist both in typology (verdial, gordal, hojiblanca, morona ...) and flavors, the olive has taken a place at the tables as an appetizer, as a side dish and in some occasions, merely decorative. The challenge is to make it a true protagonist, in the center of modern and traditional gastronomic creations. For this, the campaign begins with 5 renowned chefs and authentic national gastronomic figures such as Pepe Rodríguez, Ricard Camarena (National Gastronomy Award for Best Chef of the Year), Ramón Freixa, Pepa Muñoz and Diego Guerrero. They kicked off and challenged 50 chefs to put the focus on the olive, today there are more than 200 chefs who show their creations and olive reinvention in their social networks.
It will be next March when the 6 creations that will become the winning caps of the challenge will be selected. From there, more than 2,000 bars and restaurants will present these creations to the delight of all diners.
In Montegil we are convinced that #ElRetodelaAceituna will be a success and that it will give this product so natural, so healthy and so our place.
If you want to make your own challenge, in our blog and social networks you can find some ideas for #appetizers, #dinners, #events…. Do not forget to visit our shop shop.montegil.es and place your order online! We will take you home with the olives you like best and with the most original flavors.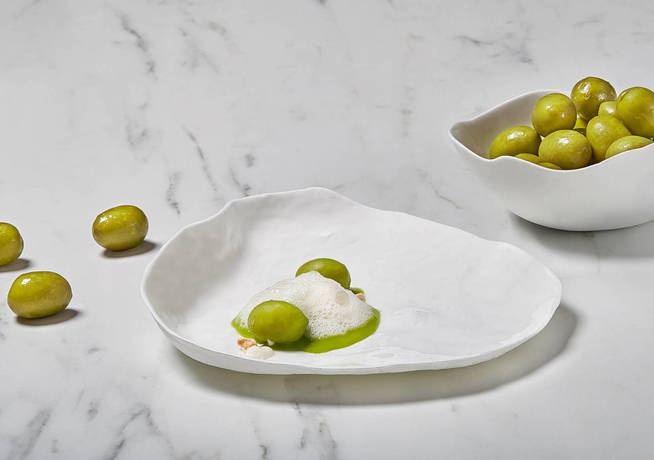 Plato elaborado por Pepe Rodríguez (Interaceituna)